You can access the Table tool from the main menu on the left-hand side.

 Clicking the Table tool icon will open a grid that demonstrates the number of rows and columns your Table will have. You can use the counter on the bottom of the grid to see how many columns and rows you're selecting.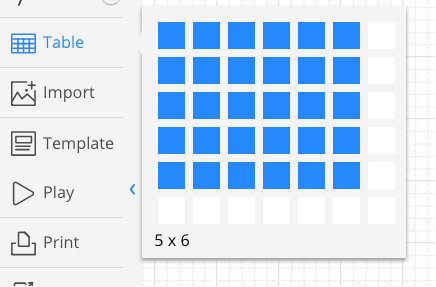 After finalizing the number of columns and rows, click the grid to minimize it. A table will be generated on the target sheet. Double-click within a cell to add text.
You will be able to edit Table properties after the table has been created from the Table menu that pops up over the sheet.  

This menu can be moved around for ease of access.
Tables can be rotated by clicking the rotate icon above the shape and dragging.
Related articles: