[1] Main Menu
Shapes
Add new shape.
Text
Add new text object.
Line
Add new line object.

You can choose the line type by clicking the arrow to display the other options in a drop-down menu.
Table
Add new table object.
Import
Add new image object. You can choose several way to import image files after click this menu.
Templates
Apply a template sheet to your diagram. You can choose which template to apply from the template menu.
[2] Toolbar
Undo
Cancel last editing operation.
Redo
Cancel last undo operation.
Duplicate
Duplicate selected object.
Cut
Remove selected object from the sheet while copying it to your Clipboard for the next "Paste" operation.
Copy
Copy selected object to your Clipboard for the next "Paste" operation.
Paste
Add object that was copied to your Clipboard by the "cut" or "copy" operations.
Copy Style
Copy styles such as text format, fill, line and shadow settings from a selected object,then apply those styles to another object.
Group
Group together multiple selected objects into one object selection so that actions applied to the selection affect all grouped objects.
[3] Object Setting Tools
Fill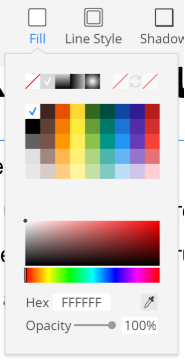 Change fill color and opacity settings of selected objects.
Line Style

Change line styles settings of selected objects.
These settings include line thickness, color, style, start/endpoint of both edge and line type.
The start/endpoints of both edge and line type are only available for line objects.
Shadow

Change shadow color, opacity, blur and where shadow is applied for selected objects.
Arrange

Change the placement of selected objects.
"Forward", "Front", "Backward" and "Back" change the order of stacked objects.
"Flip" changes rendered direction of selected objects.
"Align" moves selected objects (at least 2 objects) to be aligned.
"Distribute" moves selected objects (at least 3 objects) to be equidistant from each other on a horizontal or vertical line.
Text Style
Change text format such as font, size, color, style, line spacing and alignment of selected text objects.

Link

Apply a link to a selected object.
There are two different types of links:move to another sheet, or access an open web page by URL.
Styles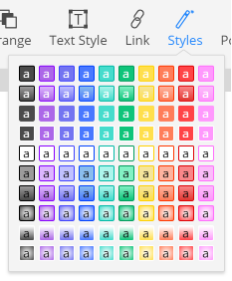 Apply a prepared style set to selected objects.
Position

Change position and size settings of selected objects.
Attribute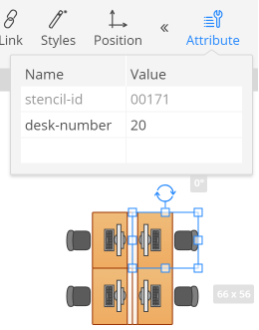 Add custom attributes, name and value pair information to a selected object.
Custom attributes can be used in the API results for developers that make integrations with Cacoo.
Resize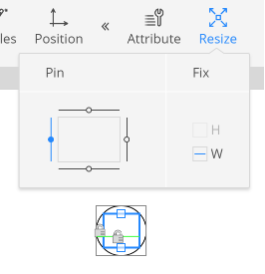 Change positioning rule of selected inner object.
To select an inner object, please click on a selected object.
[4] Top Navigation Area
Diagram Title
You can change the title of the diagram by clicking title text.
Diagram Type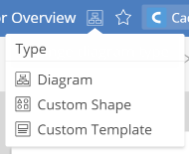 You can choose the diagram type if you need to make a custom shape or template to use for making other diagrams.
Save Custom Shape or Template

When you choose the diagram type "Custom Shape" or "Custom Template", you can update your custom shape or template by clicking the above button.
Favourite
You can "star" a diagram so that it shows up in the "Favorites" list in Dashboard so that you can access it easily.
Folder Selection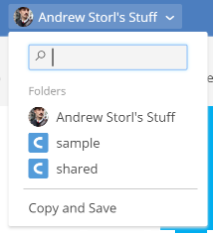 You can change the folder your diagram is located in.
Copy Diagram
You can make a copy the diagram from the bottom of the folder selection list.
[5] Sheets preview panel
Cacoo's diagram is constructed with multiple sheets.
You can navigate between sheets in a diagram from the sheets panel.
Add Sheet
When you click the [+Add Sheet] button, a new blank sheet is added to the current diagram.
Select Sheet
When you click a sheet thumbnail, the Editor will reflect the contents of the selected sheet.
Change Sheets Order
You can change the sheet order by dragging a sheet thumbnail up or down in the sheet list.
Change Sheet Name
When you click the sheet name area under a thumbnail, you can modify the sheet name.
Copy Sheet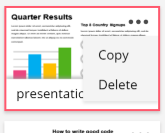 From the upper-right menu on the sheet thumbnail, you can make a copy of the sheet.
Delete Sheet
You can delete the sheet from the upper-right "delete" icon on the sheet thumbnail.
[6] Collaboration Tools
Play
This shows the diagram in the presentation mode.
Print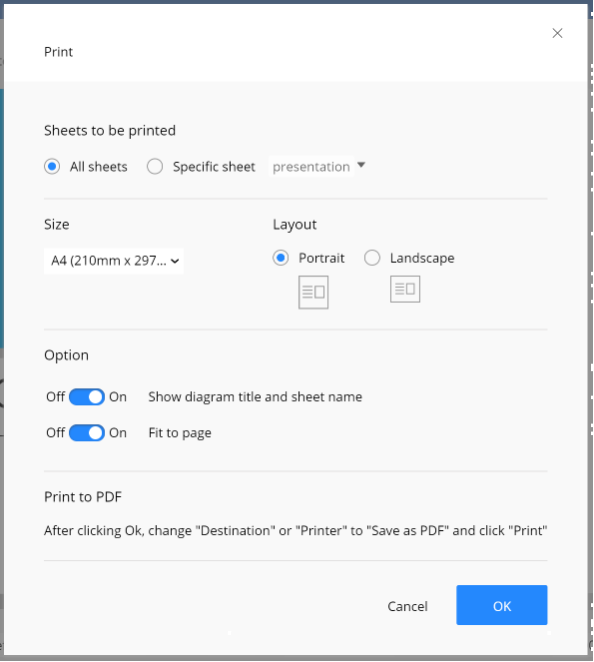 This shows the print diagram dialog.
If you want to create a PDF with embedded fonts that you used in your diagram, please use the Print menu, then click "Print to PDF".
Export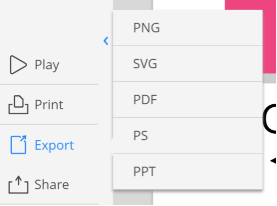 This menu exports the diagram to other file formats.
Free plan users can only export as PNGs. Paid plan users can export in all file formats.
Share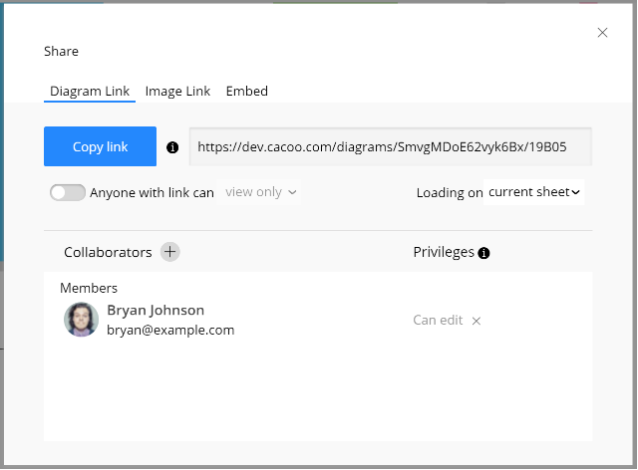 This shows the share settings menu.
You can share the diagram directly with other users by email if the diagram is made in your private folder and is not in any shared folders.
You can also change the range of disclosure of the diagram.
History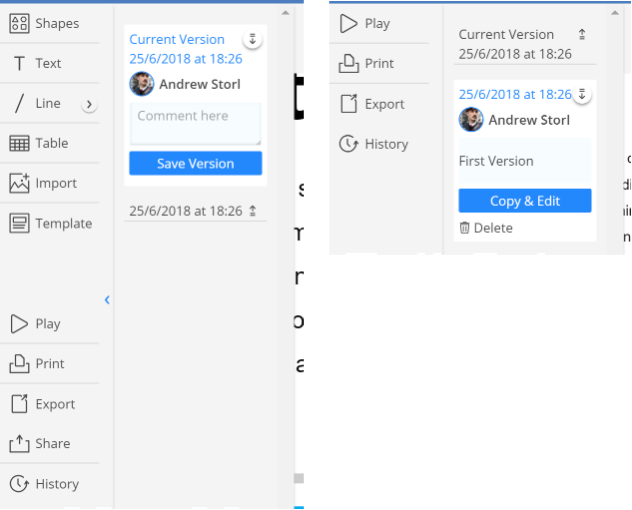 This menu lets you create and view all logged version history of editing the diagram.
This function is only available for paid users.
[7] Properties bar
Comment
The Comment tool lets you comment anywhere on the sheet. Expanding a comment shows the conversation thread with other users.
You can change a comment's location by dragging the left-top corner point.
Show (Hide)
The show (or Hide) button shows you the sheet with comments applied or with comments hidden.
Sheet Size
Diagrams are automatically "free size" by default, but if you want to make the diagram with fixed size, you can choose the diagram sheet size.
For example, if you want to show the diagram as a presentation, you can change the sheet size to match the specific screen size of the projected view.
Background Sheet
You can make another sheet the background sheet of the current sheet. One sheet can be used as the background sheet for multiple sheets. When you update the background sheet, the changes are applied on each sheet.
Zoom
This changes the zoom level on the sheet.
View
Grid
Controls visibility of grid lines on the sheet.
Snap to grid
Changes the snapping objects rule to snap to grid-lines or nearby objects.
Support
Shortcuts
Shows available keyboard shortcuts in the Editor.
Help links
Link to this document.