Managing folder access on the Free or Plus plan
Managing folder access on the Team plan
Managing folder access with user roles
Managing diagram access to people outside the organization 
Managing folder access on the Free or Plus plan
Make any folder collaborative by simply inviting people to access it. Click here to learn about adding folder members.
You can only manage access to folders that you own, not folders that you were invited to collaborate in.
Click the settings icon next to the folder you want to manage access to in the sidebar on the left-hand side.
If you want to revoke a user's access, click "×" next to the user's email address.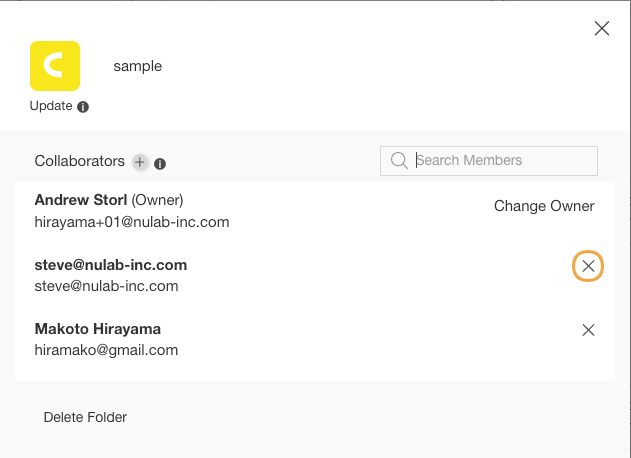 Managing folder access on the Team plan
Managing folder access with user roles
Here's what a folder's settings page will look like with no members. It will only show the folder creator as the "Folder admin."The folder creator can add other users as folder admins.

Once other users have been added to access the folder, folder admins will be able to change the user roles of any collaborator by clicking the downward arrow next to their preset user role.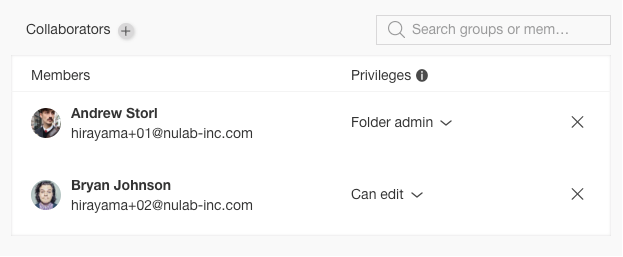 People that are listed as "can edit" can only view folder members, not add or edit them. Here is what folder settings look like to a person set as "Can edit":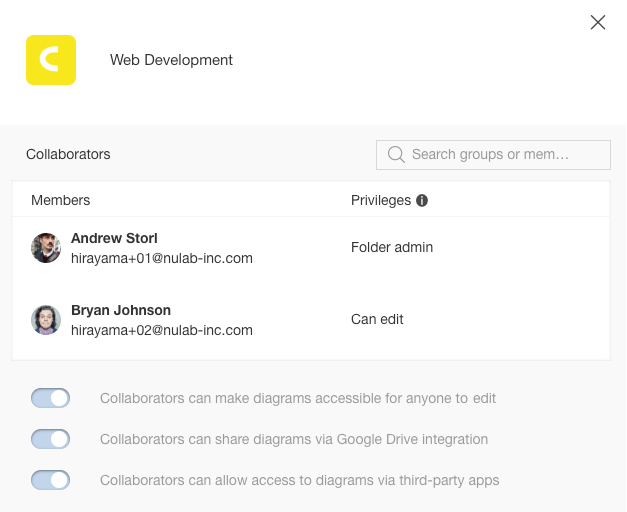 Managing diagram access to people outside the organization
Folder administrators can manage the diagram sharing restrictions for all diagrams in a folder from the folder settings page.
Click the Settings icon next to the name of the folder that you want to manage access to.

Switching any of these settings on or off will affect all diagrams within the folder.