Sticky notes are an effective and easy to use tool that let users record or highlight their important information or even ideas quickly. In Cacoo, you can find the sticky notes function available on the tool menu and easily add them to your diagrams.
Here are some ways to make full use of sticky notes in Cacoo:
Color-code your notes


With the various colors offered in the sticky notes tool, you can organize your information into easily distinguishable categories or priorities.




Brainstorming


rainstorm and develop ideas with your team by using sticky notes and organize them like a mind map in the diagram.




Or you can simply find a template in Cacoo that comes with sticky notes, such as the Customer Persona, Lean UX Canvas or SWOT Analysis template, etc.




Project planning
In the project management scenario, sticky notes are a great tool for creating Kanban boards, daily standups, retrospectives, flow charts, or storyboards. With sticky notes, it helps the team to easily visualize the progress and updates at a glance and team members can quickly add or remove tasks or ideas with sticky notes in the diagram.


How to add sticky notes
In Cacoo, there are two ways to add sticky notes.
Add sticky notes via Tool menu
If you are adding sticky notes in bulk, you can add them via the Tool menu.
Go to

Tool menu > Sticky Note

.

A

sticky note creation modal will pop up.
Input your text

in the Sticky notes and press

Enter or Add

to post the sticky notes on the diagram.

To end the add function, select

X

to close or exit the modal.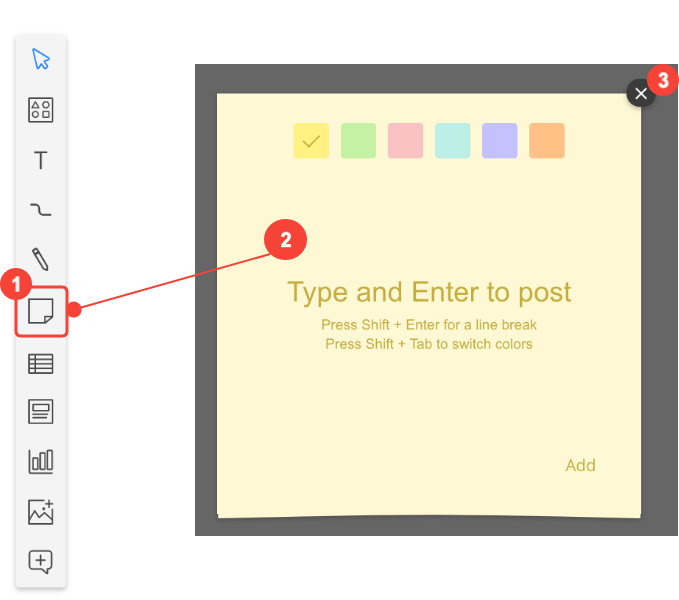 Tips:
You can select different colors while inputting your text.

Operation shortcut key in the sticky notes creation page:




- Press

Enter

to post a sticky note.




- Press

Shift + Enter

for a line break.




- Press

Shift + Tab

to switch sticky notes color.

After you added a sticky note, the creation modal remains and you can continue to input your text for any following notes that you wish to create.
Adding sticky notes via Shape menu
If you are adding a sticky note, you can add them via the Shapes menu.
Go to

Tool menu > Shapes

.

If the Sticky notes function is not in your Tool menu, go to

+ Shapes

.




*if you have added sticky notes to your shape menu, please skip to steps 4.

In the

Shape finder

pop up page, check the box for

Sticky Notes

.

Go to Shapes > Sticky Notes. Select the color of the notes and drag and drop the sticky notes to the diagram

.
After adding sticky notes to your diagram, you can further manage their styles and text formatting by selecting the notes and editing them via the editor menu.
To learn more about the editor menu in the diagrams, please refer to the Editor overview article.
Related Articles
Editor overview
Creating shapes
Using templates