Welcome aboard! This guide will help you navigate Cacoo and create diagrams like a pro!
Individuals 
In this section, you'll learn about:
Creating diagrams
Whenever you log in to Cacoo, you'll be brought to your Dashboard. Here, you will be able to view all of your existing diagrams, as well as start new ones. To create a new diagram, just click the 'Create New Diagram' button in the upper-left hand corner of your Dashboard.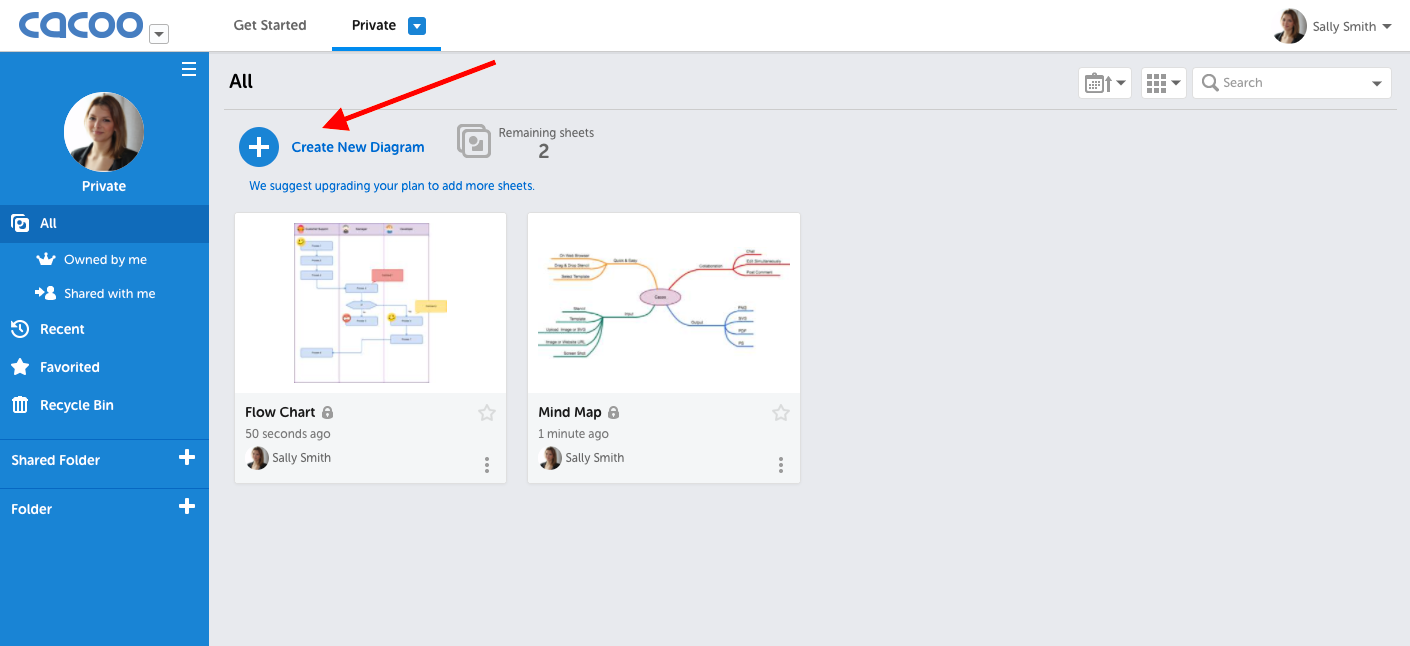 Create a new diagram from the Dashboard.
After clicking the 'Create New Diagram' button, the Editor will automatically launch with a selection of templates. Select a template from the various template Folders, or select 'Blank' to start from scratch.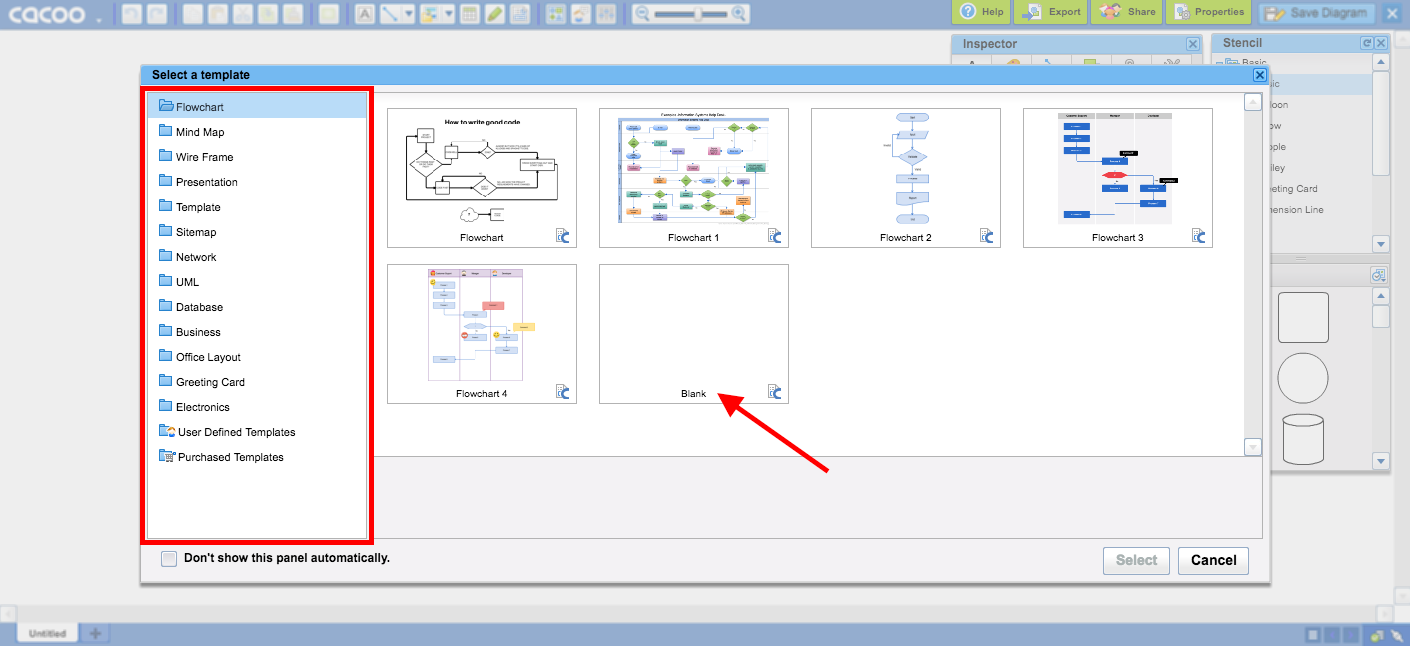 Select a template in the Editor.
Once you've selected a template, it's time to start customizing your diagram. The Editor offers a variety of options for making your diagrams unique, including:
A

Stencil Library

with 800+ shapes;

An Inspector tool for formatting text, controlling the fill/shadow of shapes, adjusting lines, and sizing and arranging your objects; 

Use the

Inspector

and

Stencil Library

within your

Editor

to create our diagram.

A

Top Menu Bar

filled with options to help you

copy, paste, cut, and duplicate objects;

insert text, lines, images, and tables;

select new stencils and templates;

open and close the Stencil Library, Inspector, and Chat window;

zoom in and out of your diagram;

Export or Share your diagram;
edit your Properties options including name, description, security, and sizing; and

save your diagram.

Here is a guide to your basic Top Menu Bar functions.
Bonus: For a step-by-step introduction to creating your first Venn Diagram, check out this blog post. It's great for beginners who want a more hands-on learning experience as they get to know Cacoo.
Sharing diagrams
Note: Free plan users will experience limited exporting and sharing options compared to Plus and Team users.  
Once you've completed and saved a diagram, the Top Menu Bar will give you options to:
Export your diagram in PNG, SVG, PDF, PS, and PPT formats;  Export drop down from the Top Menu Bar
Edit the Properties to create a public URL to your diagram as well as share your diagram via your Twitter, Google+, or Facebook social profiles; and Properties drop down from the Top Menu Bar 
Share by sending an invitation and message via email to individuals to view your diagram. Share drop down from the Top Menu Bar
Note: If you're in a Shared Folder, you will not see the 'Share' drop down in the Editor.
Free users have the following limitations:
Diagrams can only be exported as PNG files,

A diagram can only be shared with 15 people, and

A Folder can only be shared with three people, even if they're not Cacoo users.
With Plus or Cacoo Team plans, you gain access to all exporting options and unlimited sharing. 
For more info on sharing, you can always visit our sharing support page.
Organizing diagrams with Folders
Organizing your diagrams is easy with Folders. Add a new Folder from the left-hand menu on the Dashboard.  Assign your diagrams to any Folder, and freely move them as needed.

Add Folders from the left-hand menu of your Dashboard.
You can also create Shared Folders for groups of diagrams you want to share with others.  
Collaborating on diagrams
When you share a diagram or a Folder (or Projects for Team users):
You and others can edit your diagrams simultaneously;

Chat with your team as you edit diagrams together.

You can track changes made by yourself and others with the

Version History

control

feature;

and

Track changes in the Diagram Viewer.
You and your collaborators can leave Comments directly within your diagram.Comment on diagrams in the Diagram Viewer.
Note: The Version History feature is not available to free users.
Teams
In this section, you'll learn about:
Understanding your spaces
When working with a Cacoo Team plan, your relation to your Organization is as follows:  
Account

: First, there's your individual Cacoo account that gives you access to the cloud-based software

Organization

: Next, there are the Organizations with which you belong to. You may only belong to one, or you may belong to many (e.g. when working with multiple clients.)  

Projects

: Within each Organization, diagrams are organized and shared through 'Projects'—You can think of these similarly to shared Folders, but with a shared goal or task.

Diagrams

: Finally, there are the diagrams, created by you and others, assigned to each Project.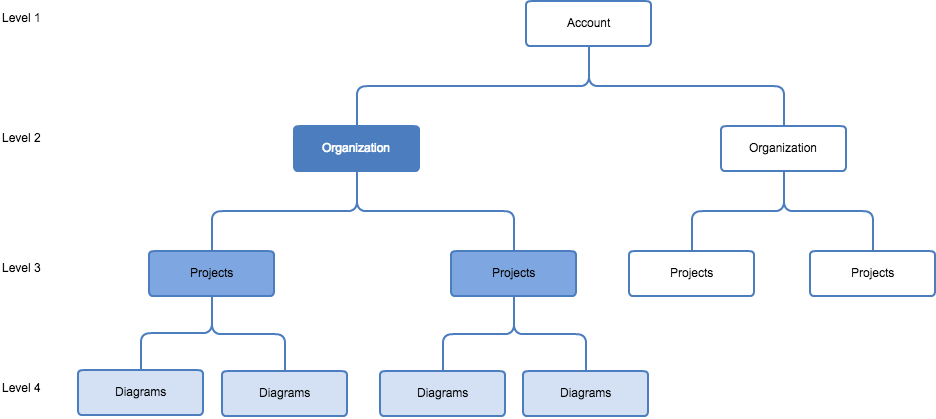 This flowchart demonstrates how these components relate. The blue section represents a single Organization with multiple Projects containing multiple diagrams.
Switching between spaces 
To navigate between your Private space (where you control all settings and access) and an Organization's space (controlled by a company's Cacoo Administrator), click your profile photo in the left-hand menu of your Dashboard.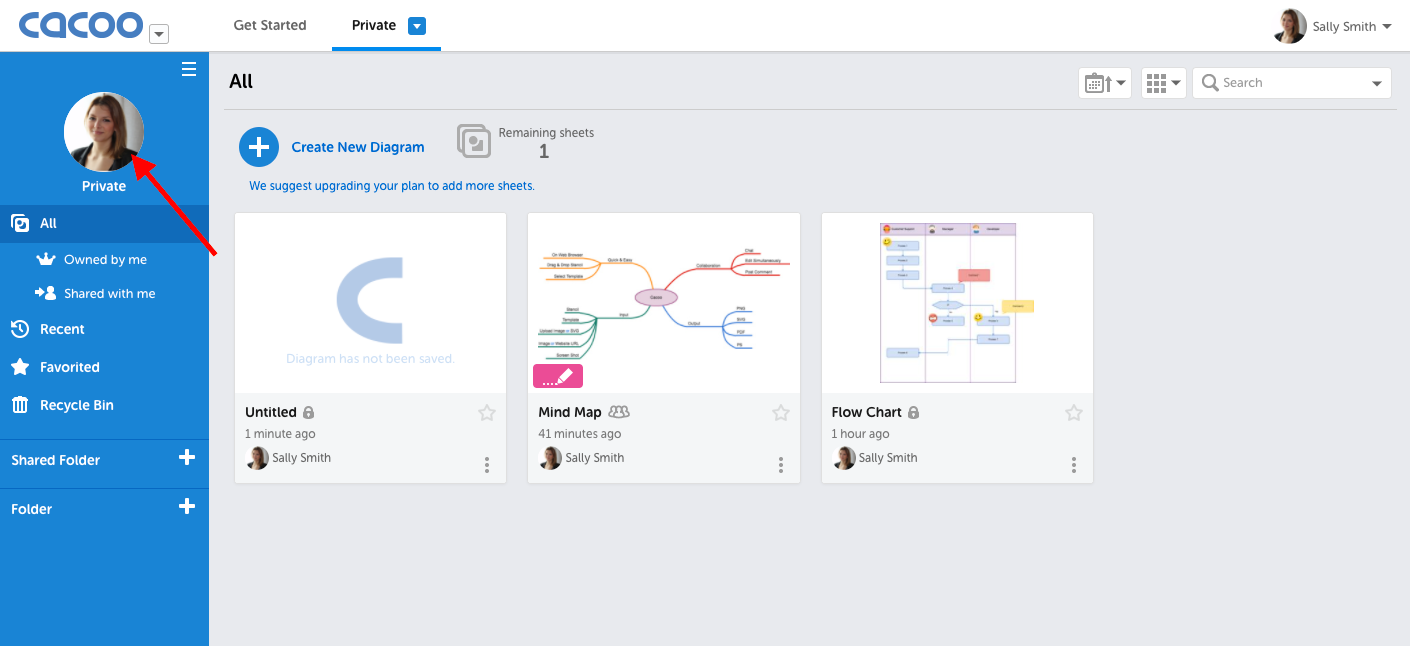 Your profile photo is located in the left-hand menu of your Dashboard.
This will open up a dialogue box where you can toggle between all of your various spaces.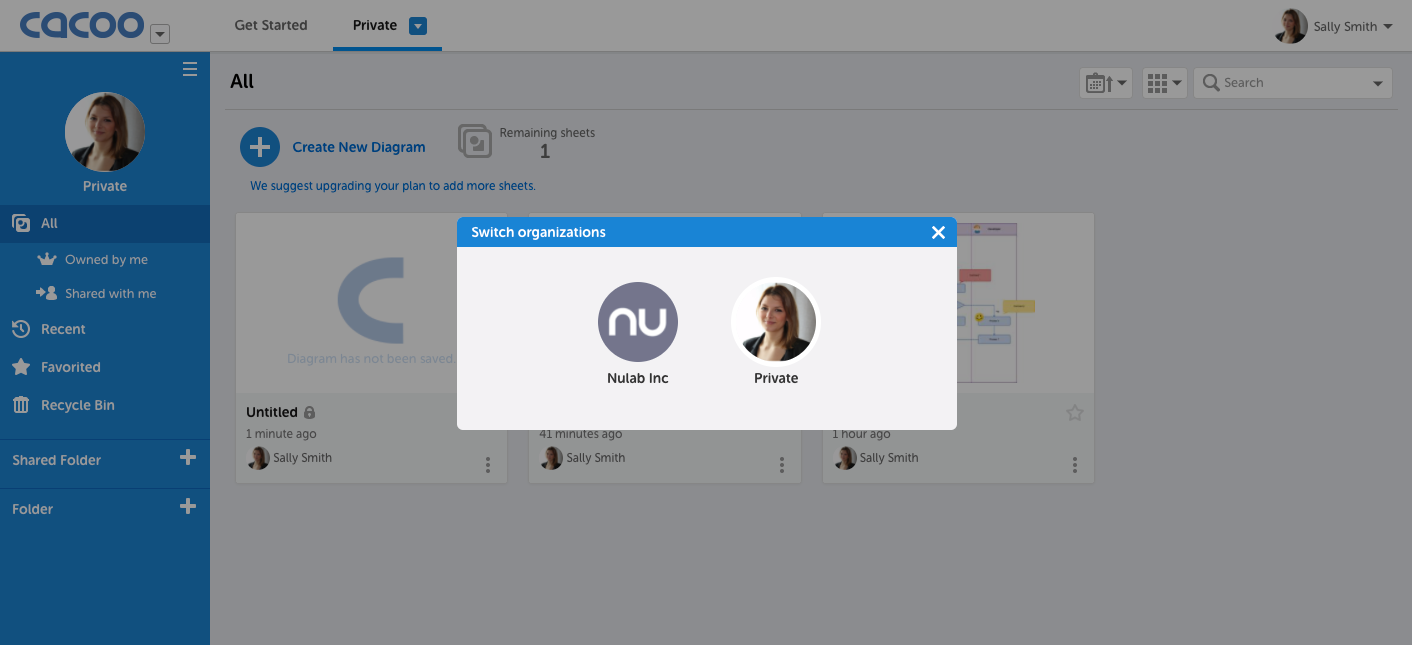 This dialogue box will show every space you're a member of. Select one to go to that space. 
Note: When creating a new diagram, pay close attention to whether you're creating it within your Private space or one of your Organization's spaces. If you want your diagram to go within a specific Project and company, you'll want to create your diagram using your Organization's space. For more information about switching between Private to Organization views, you can read our support document here.
Bonus: For a more in-depth look at spaces, check out this blog post. It will walk you through the capabilities of each kind of space.
Organizing work with Projects
Within your Organization, Projects will keep your diagrams—and your teams—organized. They will also enable collaboration and keep your teams connected.
Note: If a diagram is not in a Project, people aside from the diagram creator will not be able to see it.
Only Project Administrators will be able to create Projects, invite users, and restrict access to Projects by member. If you're a Project Administrator, you'll need to learn the ins and outs of creating and managing Project settings. If you're a lower level user, you'll have much less to worry about. Just make sure you have an Administrator grant you access to all the Projects you're a part of.
Check out this quick video to see a demonstration of managing Projects and the diagrams within them:
Organize your Projects how you see fit! You may want to create a Project for each team (i.e. Marketing, Sales, etc.) or you may focus your Projects on individual initiatives or campaigns. It's totally up to you and how your team functions together.  
Managing and inviting users
To access an Organization's space, that individual must be invited by the Organization's Administrator.
Only Organization Administrators can invite and revoke user's access, assign roles, and create/manage groups. If you are your Organization's Administrator, you'll need to familiarize yourself with managing members, roles, and groups.
Watch this short video to see how inviting members to your Organization looks in action:
Administrators can also go to the Dashboard and click the "Invite Team Members" button in the lefthand menu:

Once members have accepted their invitations to your Organization, you can also sort them into Groups, making it easier to invite, change access settings, or revoke access to multiple users without having to do it on an individual level.
Getting in touch  
Now that you know the basics, visit Support for specific technical help and troubleshooting. Contact us if you have any questions along the way; we're always here to help.

For our Cacoo Team Users, we also offer free one-on-one walkthroughs of Cacoo. If you'd like to request a walkthrough, contact us here.